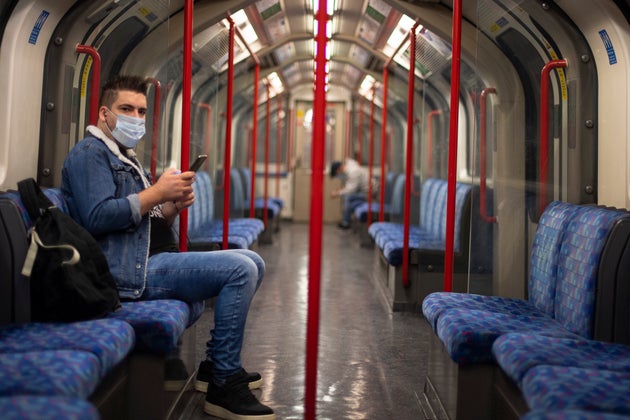 Coronavirus has changed everything. Make sense of it all with the Waugh Zone, our evening politics briefing. Sign up now.
People have been asked to walk the first or last mile of their journey to work in order to reduce the spread of coronavirus on public transport.
The government said people should try and keep two metres apart from each other when travelling on buses and trains – but admitted on Tuesday this would not always be possible.
It comes as people who cannot work from home, including those who work in construction and manufacturing, have been asked to return to work from Wednesday.
In advice published on Tuesday, the Department for Transport said people should wear a face covering "if you can" on public transport.
And passengers have been asked to "avoid consuming food and drink".
The government said people should try to take a less busy route than normal and reduce the number of changes made.
"Try to start or end your journey using a station or mode of transport you know to be quieter or more direct," the advice said.
"For instance, walk the first or last mile of your journey, or alight at an earlier station, where this is possible."
It added: "There may be situations where you can't keep a suitable distance from people, for example when boarding or alighting, on busier services, at busier times of day and when walking through interchanges.
"In these cases you should avoid physical contact, try to face away from other people, and keep the time you spend near others as short as possible."
Transport operators are being urged to rearrange, remove or limit seating "to try and ensure social distancing is observed".
This may include blocking off seats in close proximity to others and removing face-to-face seating.
Single users of black cabs and minicabs should sit in the back left-hand seat of cars, according to the guidance.
Passengers are also advised that after completing their journey they should wash or sanitise their hands.